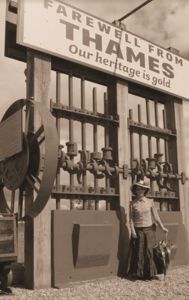 Thames Heritage Festival 2019

Thames has a rich and proud history in the early development of New Zealand, and the Thames Heritage Festival is a celebration of our extraordinary past.

Click here to enter an event for 2019
See the 1News story on the Goldfields 150th Anniversary
2018 events included:








Thames Jockey Club 150 Years
Heritage Movie : Charlie Chaplin
Armistice Day
FIRING UP STEAM ENGINE
The Comer Family Book Launch
STEAM UP AT GOLDMINE EXPERIENCE
Poems of Thames and Presentation on Janet Waddell
Saints and Angels Evening
Movie 20,000 Leagues Under the Sea
Parawai School 50th Jubilee
Lotsa's Funtastic Steampunk Strut
Lunchtime Concert at St. Georges
Miners' Dinner at Bella Street Pumphouse
Historic Kopu Bridge Celebration of Agreement
Read Bros. Hardware 150th Anniversary
Thames 150th Anniversary Original Song Contest
Music by Harpist Katherine
Church at The Park
Window Display Competition
The Treasury Book Launch: True Tales of Thames









Plus many more.
Click here for full programme of the Heritage Festival.
Special thanks to our sponsors...