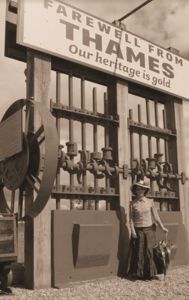 Thames Heritage Festival 2019
- Friday 15th March to Sunday 17th March 2019 -

Thames has a rich and proud history in the early development of New Zealand, and the Thames Heritage Festival is a celebration of our extraordinary past.

Click here to enter an event for 2019
See the 1News story on the Goldfields 150th Anniversary
2018 events included:








THAMES HERITAGE MARKET
'Golden Gears' - A Burlesque Gaslight Fantasy
Celebrating Marriage 150 Years Ago
Heritage Painting Workshops
Old Time Music Hall
Goldmine Experience Stamper Battery Opening
Poems of Thames and Presentation on Janet Waddell
Steampunk Carnival
Miners' Dinner at Bella Street Pumphouse
St. Georges' Choral Performance
Steaming up in Thames
A Special Service to mark 150 Years
Thames Jockey Club 150 Years
St. Georges Church Concert with Antony Peebles
Steampunk Art Exhibition
The Way We Were - Treasury Lectures
Cafe Concert
SCHOOL OF MINES Evening Lectures and Tours
Dedication Ceremony
Women of Empire - The Homecoming









Plus many more.
Click here for full programme of the Heritage Festival.
Special thanks to our sponsors...