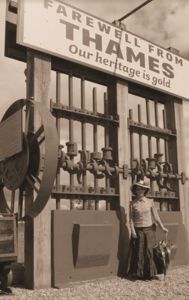 Thames Heritage Festival 2020
- Saturday 14th March to Sunday 15th March 2020 -

Thames has a rich and proud history in the early development of New Zealand, and the Thames Heritage Festival is a celebration of our extraordinary past.

Click here to enter an event for 2020
See the 1News story on the Goldfields 150th Anniversary
2019 events included:








Tinkers Trading Post
Open Days at The Pumphouse
Lectures: The Railways and Tramways of Thames
Petticoats & Pantaloons Competition
Evening Workshops on Heritage Painting
Transportation on Show
Britz on The Bridge
Vintage Auction
Thames Baptist Church Sesquicentennial
Heritage Movies
Development of The Safety Bicycle
Boats 'n' Bikes, to Buggies 'n' Buses
Sugar Cafe Dessert & Coffee Evening
ZEPPELIN BY DAY
Lectures: Transport On The Goldfields
St. Georges Anglican Church
Zeppelin by Night
Pre-Dinner Promenade
Art Exhibition
Thames Heritage Market









Plus many more.
Click here for full programme of the Heritage Festival.
Special thanks to our sponsors...