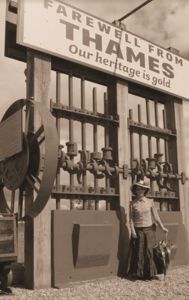 Thames Heritage Festival 2019

Thames has a rich and proud history in the early development of New Zealand, and the Thames Heritage Festival is a celebration of our extraordinary past.

Click here to enter an event for 2019
See the 1News story on the Goldfields 150th Anniversary
2018 events included:








St. Georges Church Concert with Antony Peebles
St. James Church Heritage Service
The A. & G. PRICE STORY
Women of Empire - The Homecoming
Goldmine Experience Stamper Battery Opening
Evening Workshop - Heritage Art
Country Rock N Roll Charity Concert
Tour of Displays at Thames Museum
Miners' Dinner at Bella Street Pumphouse
Talk and Walk To "Eureka", Kuranui Valley
'Golden Gears' - A Burlesque Gaslight Fantasy
Irish Ceilidh
The Treasury Photography Exhibition
FIRING UP STEAM ENGINE
Movie 20,000 Leagues Under the Sea
The Way We Were - Treasury Lectures
Lunchtime Concert at St. Georges
Walk through John William Hall Arboretum
Gemboree - Rock and Mineral Sale
Heritage Painting Workshops









Plus many more.
Click here for full programme of the Heritage Festival.
Special thanks to our sponsors...