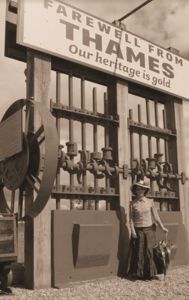 Thames Heritage Festival 2020
- Saturday 14th March to Sunday 15th March 2020 -

Thames has a rich and proud history in the early development of New Zealand, and the Thames Heritage Festival is a celebration of our extraordinary past.

Click here to enter an event for 2020
See the 1News story on the Goldfields 150th Anniversary
2019 events included:








Development of The Safety Bicycle
Lectures: Transport On The Goldfields
Boats 'n' Bikes, to Buggies 'n' Buses
Art Exhibition
Pre-Dinner Promenade
St. Georges Anglican Church Inspire
Thames Heritage Market
Lectures: The Railways and Tramways of Thames
Open Days at The Pumphouse
St. Georges Anglican Church
Thames Union Parish - Heritage Service
Pre-Dinner Promenade
Evening Workshops on Heritage Painting
Vintage Auction
Britz on The Bridge
Heritage Painting Workshops For SCHOOLS
Petticoats & Pantaloons Competition
ZEPPELIN BY DAY
Sugar Cafe Dessert & Coffee Evening
Zeppelin by Night









Plus many more.
Click here for full programme of the Heritage Festival.
Special thanks to our sponsors...