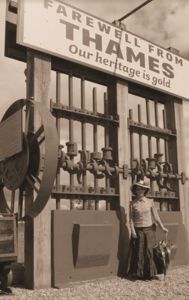 Thames Heritage Festival 2019
- Friday 15th March to Sunday 17th March 2019 -

Thames has a rich and proud history in the early development of New Zealand, and the Thames Heritage Festival is a celebration of our extraordinary past.

Click here to enter an event for 2019
See the 1News story on the Goldfields 150th Anniversary
2018 events included:








Miners' Dinner at Bella Street Pumphouse
THAMES HERITAGE MARKET
FIRING UP STEAM ENGINE
Thames 150th Anniversary Original Song Contest
DEVONSHIRE TEA & CROQUET
Goldmine Experience Stamper Battery Opening
The A. & G. PRICE STORY
Women of Empire - The Homecoming
Thames Heritage Festival
Gemboree Gem Rock & Mineral Show
'Golden Gears' - A Burlesque Gaslight Fantasy
Old Time Music Hall
Miners' Dinner at Bella Street Pumphouse
A Place at The Table - St. James' Union Church
'Gold Ball' - A Victoriana Affair
Armistice Day
Celebrating Marriage 150 Years Ago
Dedication Ceremony
Bizarre Beard & Moustache Competition
Window Display Competition









Plus many more.
Click here for full programme of the Heritage Festival.
Special thanks to our sponsors...