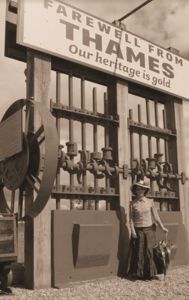 Thames Heritage Festival 2019

Thames has a rich and proud history in the early development of New Zealand, and the Thames Heritage Festival is a celebration of our extraordinary past.

Click here to enter an event for 2019
See the 1News story on the Goldfields 150th Anniversary
2018 events included:








Goldmine Experience Stamper Battery Opening
The A. & G. PRICE STORY
'Golden Gears' - A Burlesque Gaslight Fantasy
Tour of Displays at Thames Museum
PETTICOAT PARADE
A Place at The Table - St. James' Union Church
Talk and Walk To "Eureka", Kuranui Valley
Parawai School 50th Jubilee
Miners' Dinner at Bella Street Pumphouse
Celebrating Marriage 150 Years Ago
Church at The Park
NZ History Federation AGM
THAMES HERITAGE FESTIVAL
The Alchemy of 'Golden' Cheese
Thames Jockey Club 150 Years
133rd Birthday Celebration service
Heritage Painting Workshops
Totally Thames Santa Parade
Thames Goldrush Market
The Treasury Book Launch: True Tales of Thames









Plus many more.
Click here for full programme of the Heritage Festival.
Special thanks to our sponsors...